I have really fallen in love with the Rag Wreaths. If you remember, I did a post
Fourth of July Wreath Rag Wreath
that I'm really loving and am looking forward to displaying next year.
But I wanted a rag wreath that I could display now, so I got started spinning my wheels and decided to do a Sunflower Rag Wreath. My mother even submitted some creative ideas to the formation of this wreath.
Without further ado, here's my new fall wreath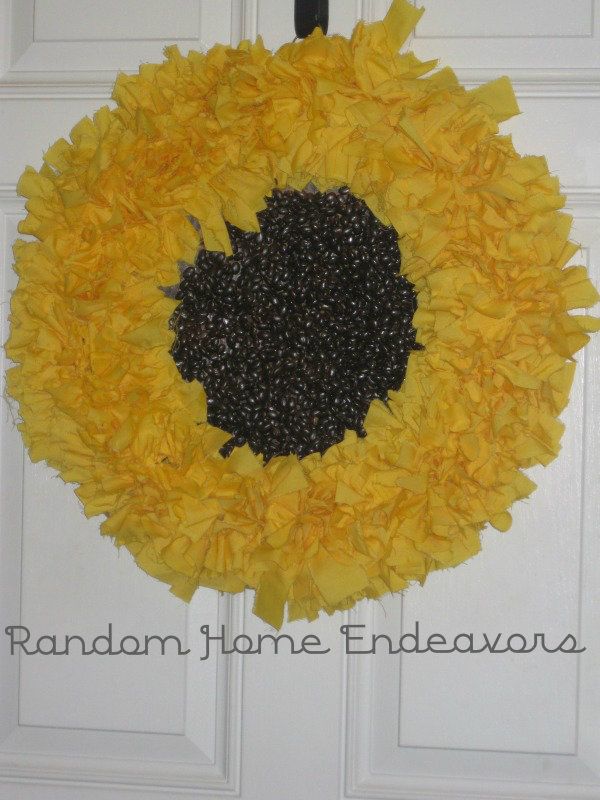 This will go on my front door this coming week as I pull out my fall decor and begin to decorate my little place for the holidays.
So, how did I make the wreath?
Supplies I used to make the wreath were a wire wreath frame
3-5 yards of broadcloth, pinto beans, glue, cardboard, spray paint (ORB because it's what I had on hand), and floral wire.
I cut / ripped the cloth into strips about 1 1/2" x 7" (that doesn't have to be exact). Tie the strips of cloth onto the wreath frame. (I did all 4 rows but you can probably get by only doing 3 of the rows, which means less cloth).
For the middle, I cut a piece of cardboard the size of the wreath, then drew a circle, using the wreath as a guide for the middle. Applied a ton of glue inside the drawn circle, threw the pinto beans on there and kind of pressed them down into the glue. After the glue was dry (took a couple of days) I sprayed the beans with the paint (you don't have to paint them but I thought they would look better painted). Attached the cardboard to the wreath using floral wire. I also used some of the floral wire to make a loop to hang it by.

The idea of using the pinto beans for the middle / seeds came from my formerly crafty mother.
That's it folks. Sorry I don't have any in process pics, maybe next time.