Hey Everyone,
I'm still around. Thanks to the inspiration I've gotten through a few of my fellow bloggers' projects, I've been crafting and decorating a bit this month for a little holiday that's taking place this week, like today. Yikes, where did the month go.
I've not really decorated for Halloween in over 10 years as I had decided to decorate for fall and not just Halloween.
Just like last year around this time, the decorating and crafting bug bit and in a big way. Even though I spent quite a bit at Michael's, a lot of my projects were from Dollar Tree or from things I already had around the house.
Next year, when hopefully I be back to blogging on a regular basis, I can share more of my decor.
Since today's the big day for ghost and goblins I'll just try to show as much as I can without overwhelming you.
Bird Topiaries - I got this idea from the Michael's website.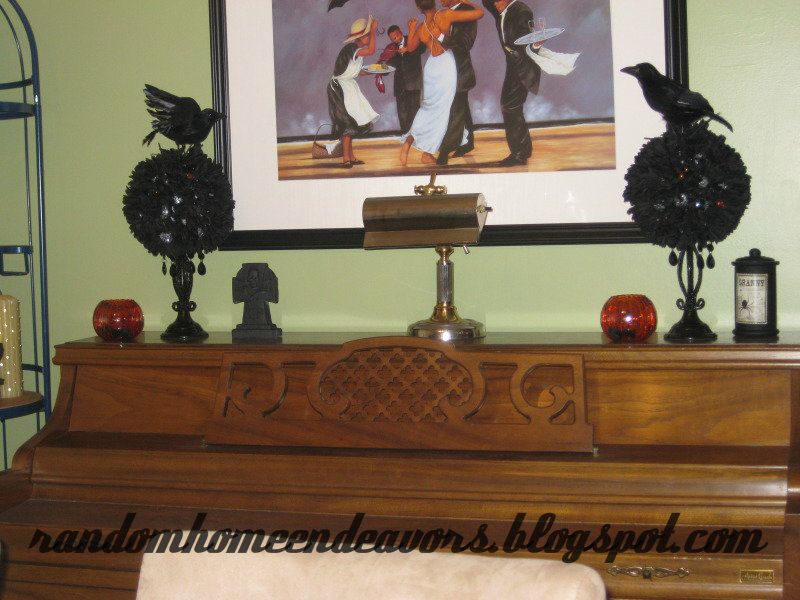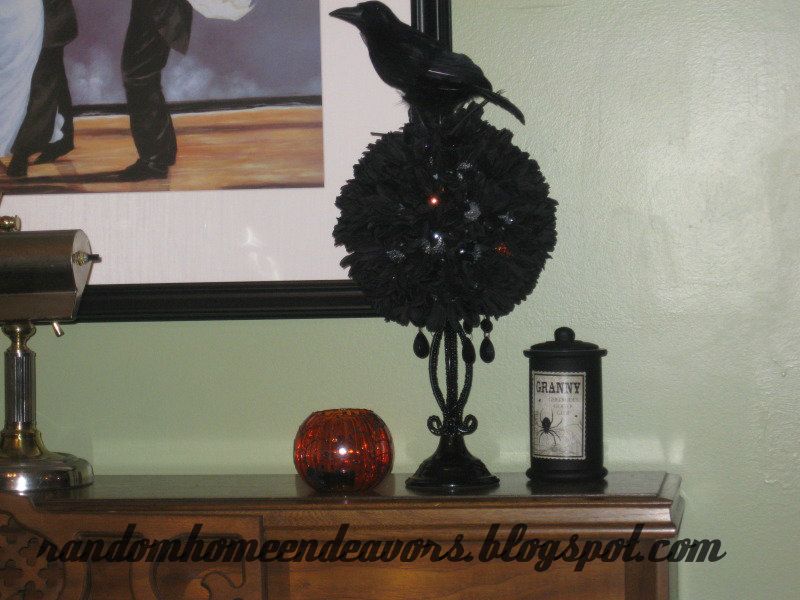 Another Michael's project is my crow candelabra.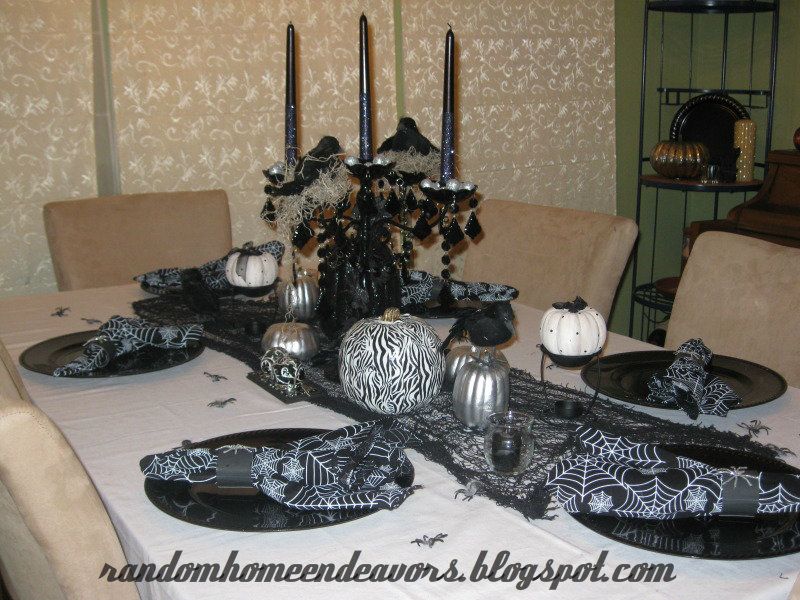 The zebra pumpkin I created last year using zebra print Duck Tape. I got that ingenious idea from ????. The silver pumpkins are just Dollar Tree pumpkins that I spray painted. The white with black polka dot pumpkins came from Kirkland's. I went back during the 50% off sale and picked up some black ones with white polka dots.
Here's an up close of my napkins, $1.99 bandannas from Hobby Lobby, and my spider napkin rings. I got the bandannas during a 40% off sale, so they were actually $1.19. The napkin rings were created using some black Poster Board I had on hand, a stapler, glue, and some glitter spiders that I picked up from Pier 1. I think the spiders were about $2.97 for a back of 12.
This is what I put together for the little baker's rack that's at the end of the piano.
Closeups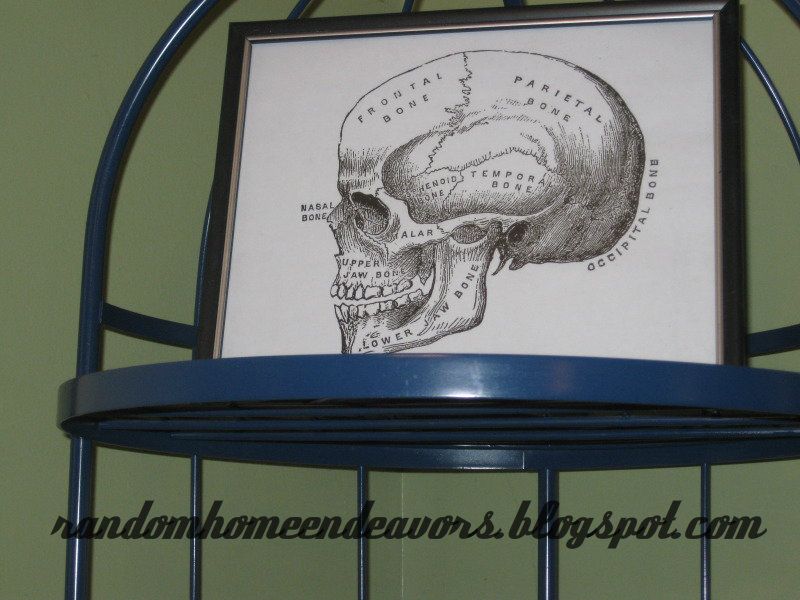 The skull has to be one of my favorite items this year. The best part is it was totally free. I got the graphic from
The Graphics Fairy
. The frame I already had on hand.
The mercury glass pumpkin was another Kirkland's score. It was 50% off, so if I remember correctly the sale price was about $8.00. The beaded candle I already had (purchased from QVC a few years back) and the black platter and tombstone marker came from Dollar Tree. I added a bit a glitter glue to the platter to spruce it up and spray painted the marker black.
Last but not least, is my Man in the Moon wreath.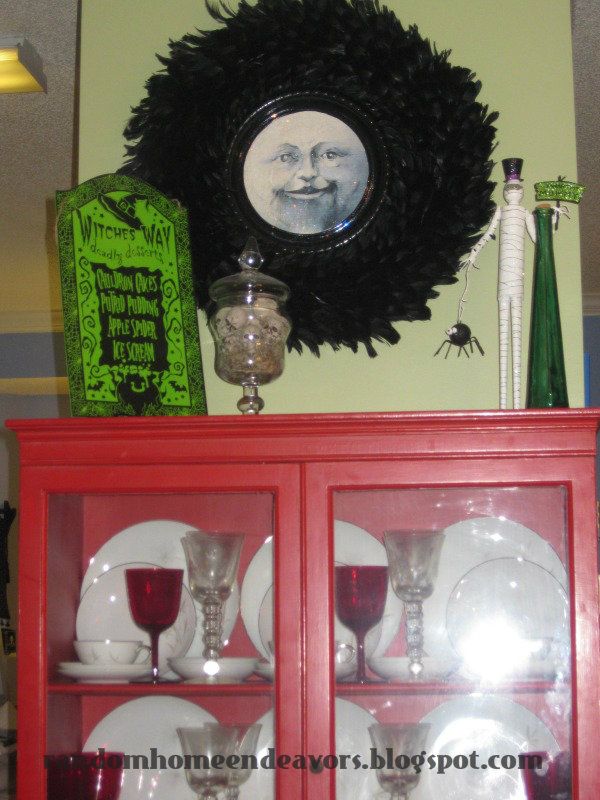 This was one of those unplanned projects that I think turned out great. I already had the black feather wreath on hand. It was purchased a few years back from Z Gallerie. I took the 2nd black Dollar Tree platter (it was a set of two) and using some glitter Mod Podge applied the Man in the Moon (another graphic from
The Graphics Fairy
) face to the platter. Then just place the platter inside the wreath. Why was this unplanned? Because I really wanted to use the Man in the Moon on the ledge in my kitchen but didn't have anything to hold him up. I had already hung the wreath. As I was walking by the wreath, I wonder if the platter would fit there and that's how I ended up with the Man in the Moon wreath.
BTW the desert menu came from Dollar Tree, my little pumpkin skulls came from AC Moore (on sale, I forget how much I paid for them but it was <$5.00, and "I want my Mummy" Mummy came from Pier 1. The little green bottle I already had on hand. I'm thinking I got it from Old Time Pottery years ago but could be wrong.
Hope you've enjoyed this mini trip of some of my Halloween decor. And you know what I realized during all this crafting and decorating for Halloween, that I actually miss decorating for this Holiday and have decided that I'm going to start back doing my Halloween decorations.
Praying all the ghost and goblins have fun tonight and stay safe.