One of these days, I'm determined to have a mantel, again, to decorate. I've had them in previous houses but not this one even though I have a fireplace. I think the builders figured that since there was the big hole in the wall, ie TV niche, above the fireplace, that I mantel wasn't needed.
While I pine away for a mantel, I decorate the surfaces I do have which includes, 2 kitchen ledges, tops of my kitchen cabinets and the half wall in the "foyer" of my house.
This year, I decided to go for a bit of a different look for the main ledge in my kitchen.
For the past few years, this has been the look for the ledge.
The Singing Mice
I still love my mice but have decided to use them elsewhere this year.
When I decided that I wanted a new look, as is typical of me, I really didn't have a plan in mind. In fact, I hadn't even thought of a new look until I purchased this lantern from Ikea.
Last year, I had seen the smaller ones, which I also fell in love with, over at
Thrifty Decor Chick
. So this year I marched into IKEA looking for the small lanterns (got 7 of them by the way), when I discovered the papa.
I really didn't know what I was going to do with the big lantern, or any of them for that matter, but I thought he was a good price and I had to have him. After finally trying him out on my kitchen ledge, I decided I wanted to more but within the span of the 2 weeks that had elapsed during that time, those papa lanterns had sold out.
So I came up with plan 2, which was to make him the centerpiece of the ledge and go from there.
At first I tried incorporating things I already have (really didn't want to buy a bunch of new things just for this project) but to me ledges are trickier than mantels to decorate, because they are up higher. Things that look right at eye level or on a mantel often look like crap on the ledge in my kitchen. So, after much playing around, I ended up using a lot of new items but some old ones, too.
And here is the final rendition.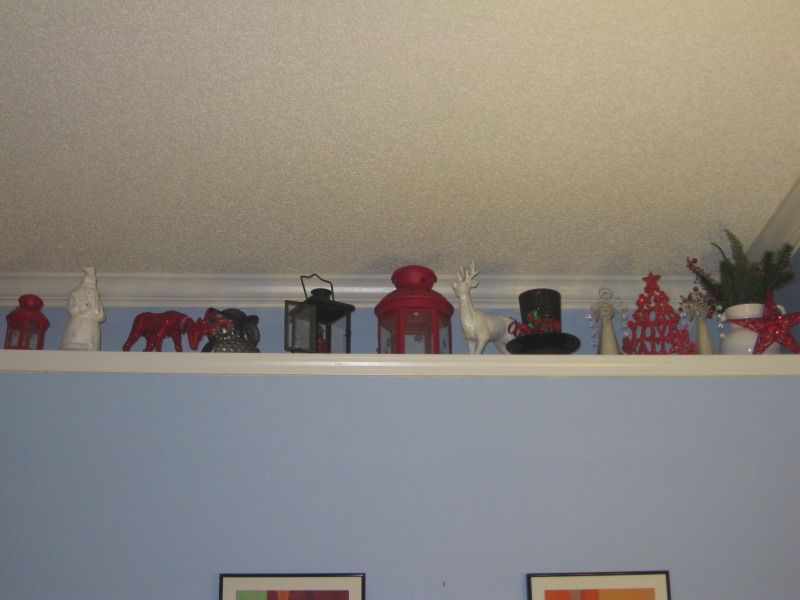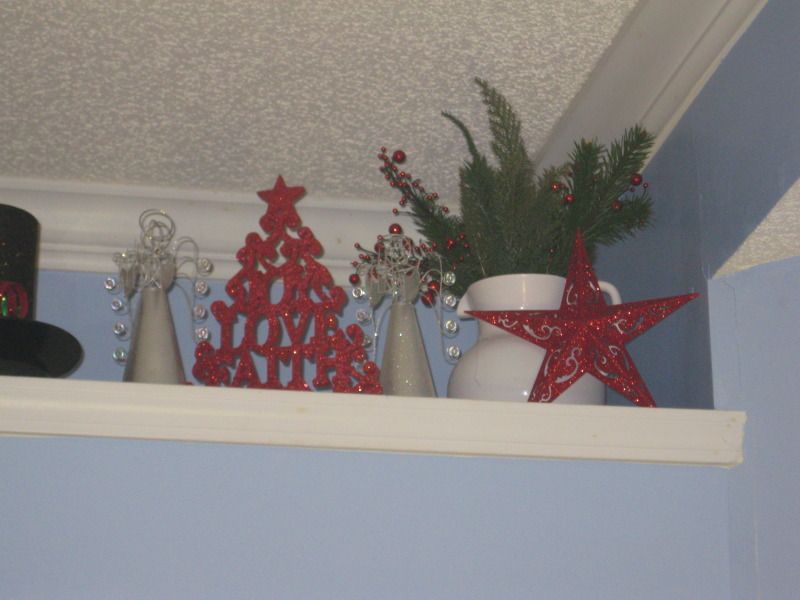 The white pitcher I already had (purchased from Target earlier this year for $3, it's plastic). I stuffed it with some greenery that I picked up at IKEA and berries from Hobby Lobby. The glitter star came from Dollar tree. The little read tree, I got this year from Hobby Lobby. It was on sale, so I only paid about $2.00 for it. The silver angels, I purchased a few years ago from Pier 1.
The frosty hat was purchased last year from Pier 1. I can't remember if it was on sale or not. I have it sitting atop a black bowl. The white glitter Reindeer was another Hobby Lobby purchase. On sale for 50% off. And of course the IKEA lantern.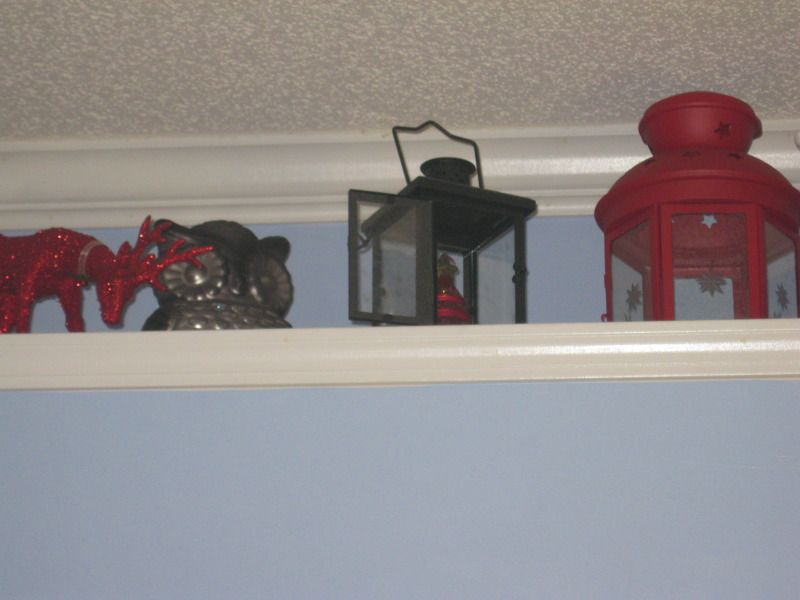 The black lantern, I already had. I purchased it from TJ Maxx or Marshall's just before the lantern craze hit, which means I got it for a lot less than I could get it for now. I have a red Christmas tree candle, that I've also had for awhile sitting in it. The owl, purchased earlier this year from TJ Maxx / Home Goods has been a real trooper through the holidays and now seems to be a permanent fixture on the ledge. The red glitter reindeer was a new purchase and came from the Martha Stewart collection at Home Depot.
The old world Santa was another piece that I purchased this year and was also part of the Martha Stewart collection at Home Depot. And I end it with another lantern (a baby red one from IKEA).
I really like how the ledge turned out. Next year, I know I'll tweak it, adding lights and perhaps a bit more greenery. This year, I tried to add some garland but it was a bit much because you couldn't see some of the pieces. I also wanted to add some lights this year but by the time I got this all together, it seems that everyone was out of clear lights.
I hope you enjoyed the tour of my ledge