As mentioned it my last post, I have got to get my house back in order, if for no other reason than for the comfort of my mother while she is staying with me, which has been almost 2 years now. So, I decided to participate in the
40 Bags in 40 Days Decluttering Challenge
by Ann Marie of
White House Black Shutters
.
The challenge coincides with Lent, which started on March 1st. Therefore, the challenge began on on March 1st.
I've really been struggling during the first few days of the challenge as I've been coming home from work and immediately falling asleep this week.
However, I am still working on the challenge. I'm just getting up early the next morning and working on the the area that I decided to work on for the previous day.
For Day 1, I decided to work on the vanity in the Master Bedroom. I forgot to take pictures of it but can describe it for you. The mirror needed a serious cleaning (I could barely see myself). I couldn't even see the top of the vanity. Therefore, Day 1 just focused on the top. I will concentrate on the cabinets and drawers another day.
I actually did end up starting on one cabinet. I disposed of out dated medicinal items as well as some old hair products that were well past their prime. The plastic bottles went to the recycling bin.
And my first bag. These were items that went in the trash. Not a full bag but it's a start. Unfortunately, this picture also highlights the need to sweep and mop my floor.
And just like that, I have a nice decluttered vanity top. The clutter removal will definitely help with getting ready in the morning. And yes, you can see in the mirror, the clutter on the other side of the bathroom. Things didn't get this bad overnight and unfortunately, it's going to take baby steps to start getting things back in order. The
40 Bags in 40 Days Challenge
hopefully is just the beginning of me getting back to a peaceful environment in my home and not the chaos from all the clutter.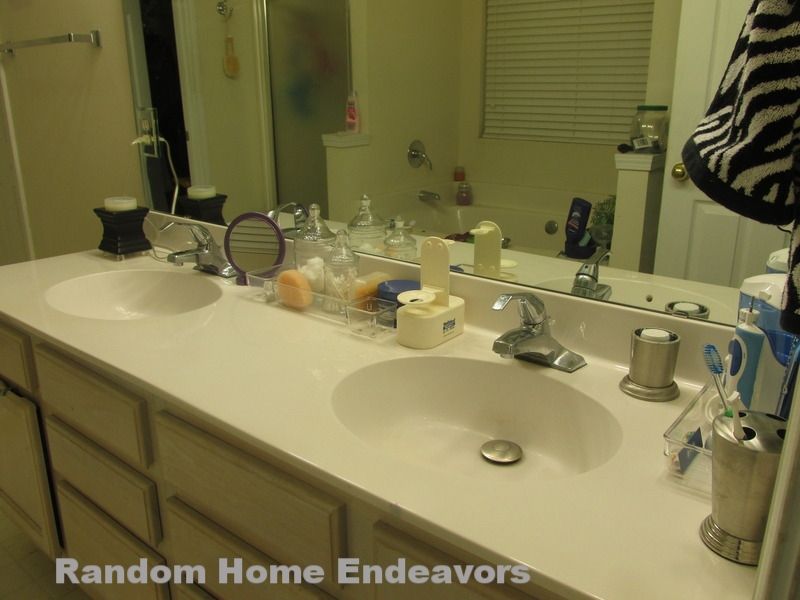 For Day 2, I concentrated on the kitchen table. I did manage to take a before picture this time.
And here is the after picture.
My mother sits in the chair on the left side. It may still look a mess but when mom first came to live with me, she had trouble sitting in unpadded chairs, so I added some cushions to the chair. Not the pretties site but it keeps Mom comfortable.
And my bags from the table decluttering.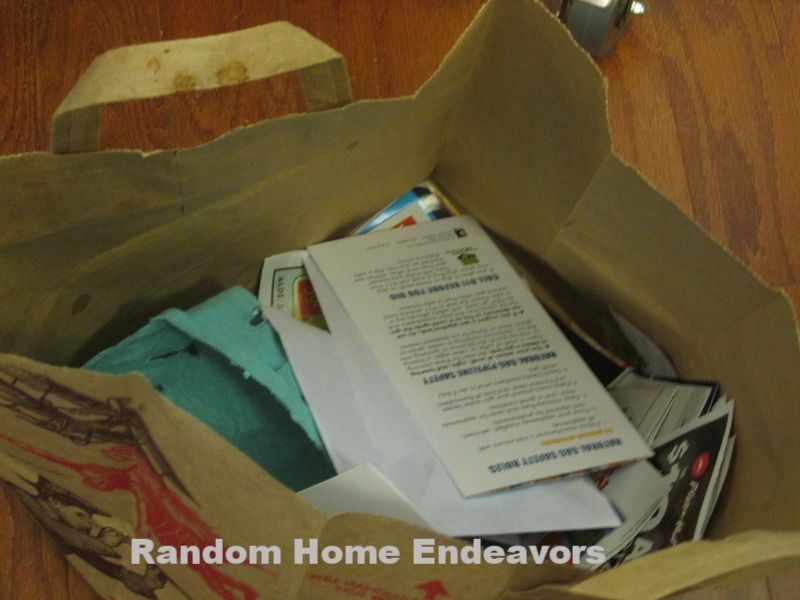 Recyclables


In the picture below, the front bag is items that belong in my bedroom. The back bag is the previously mentioned recyclables.
These are items that belong out in the garage
I didn't take on big projects these first two days and probably won't take on any big project during the first week. For me, I need to have some mini successes as I head toward those bigger projects.